This is a picture of what's wrong with Jeff Francoeur: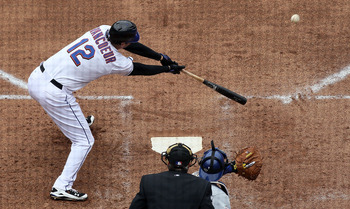 This is a thousand words about what's wrong with Jeff Francouer:
Jeff Francoeur, outfielder, formerly of the Atlanta Braves, recently of the New York Mets, and currently of the Texas Rangers, has everything you want in a major league outfielder. He's a big strong guy with a great arm and decent speed for a guy if his size. He plays hard and swings hard. His main goal in life is to drive in runs. His teammates seem to like him. He smiles a lot and has "the good face" and has a nickname, 'Frenchy.' He talks to reporters, and they love him. A famous magazine once did this: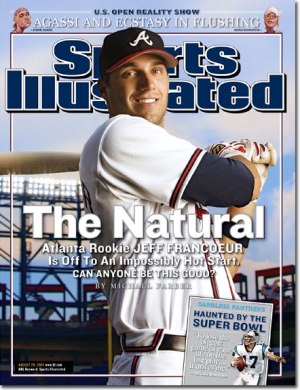 He has everything you want in a major league outfielder.
Except for one thing.
He has almost no ability to hit major league pitching.
He neither has any concept of the strike zone, nor does he make enough contact to overcome this deficiency. Despite looking like a strong guy and swinging hard, he has only once hit more than 20 home runs in a season. He does not believe that the rate of one not making outs is relevant to being good at baseball, famously asking "If on-base percentage is so important, then why don't they put it up on the scoreboard?" Nevermind that his home ballpark at the time did in fact display on-base percentage.
Despite having no discernible talent for hitting at the major league level, he has received more than 3400 plate appearances, far more chances than he deserves. Yet, he has either no desire or ability to improve. During the 2008 season, he was struggling and sent to the minors to get back on track. He made such a stink about it, he would only play three games before being called back up to the majors. This year, he was struggling, and the Mets decided he would be a part time player. Francoeur requested a trade and got it.
A guy who isn't good at baseball and doesn't want to get better and thinks of himself before the team is not a guy I want on my team.
Here's the Mets fans reaction to his trade to the Rangers: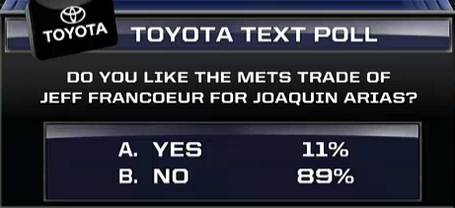 I don't know what kind of spell Francoeur puts on people, but I want to bottle it and sell it for millions of dollars.