Last week I made my third trip on I-80 from Illinois to San Francisco. This time our travelers included one person, one cat, one TV, three bikes, three computers, and various other sundries.
Here are the four major events:
(1) I wasn't even on the road yet before I made my first mistake. During the game of musical vehicles I was playing to put my car in Odie's garage to facilitate packing, I broke a key in the passenger side lock of Odie's car. This was the only key within the state of Illinois at the time. It's rightful owner was out of town, attending an Okkervil River show at the time in fact. Luckily, it was parked in an unzoned parking space with a city of Chicago parking sticker, so it was in no danger of being ticketed or towed.
(2) I had travelled no further than 100 yards from Odie's place before making my second mistake. I picked up some cash from the Chase bank and hurried back to the car to get on the road. Apparently it was too much of a hurry because a woman ran toward my car and knocked on my window. I had left my ATM card in the machine.
(3) Once I got out of Chicago, the first day was uneventful. I had a nice conversation with a gas station cashier in Iowa about her plans to bake a wedding cake for her daughter. (That's small town values!) The second day, however, was more exciting. Snow was expected for Wyoming. Stopping for lunch, I overheard truckers talking about how dangerous the roads were to the north. Continuing west on I-80, there were isolated spots of flurries, but no substantial accumulation. Outside Little America though an amber alert read "I-80 closed 43 miles ahead." I stopped in Little America and tried to get some information on the storm and road conditions. After calling mom and Melissa to check the internet and the Wyoming and Utah transportation authorities, there was no indication that the road was closed. I did learn that the snow was expected to get worse later in the day, so I proceeded west, trying to get into Salt Lake City before a larger storm passed through. About 40 miles ahead, traffic did build up, the result of a huge accident, because there were a number of cars turned around and in the ditch. That must have been the reason for the road closure, not because I-80 was covered in 12 inches of snow as I feared. There were threats of more snow in Nevada the next day, but they didn't materialize.
(4) Arrival: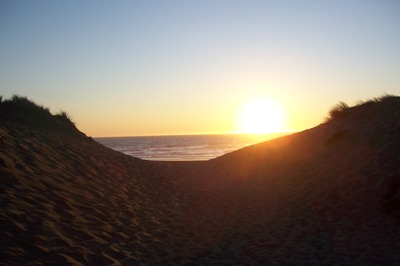 And in case you don't think we live close to the Pacific…