Here are a few pictures from when Melissa and I visited the midwest over Independence Day weekend. Our first destination was South Bend for a wedding at Holy Cross College. Clearly I couldn't wear my Cal sweatshirt to this event.


We clean up pretty nicely, eh?

This was my first trip back to Notre Dame since picking Andy up in South Bend four years ago to move to California. Except for the new buildings and road alignment, it felt like I had never left. Even the Dome was under construction, like when I arrived in 1997.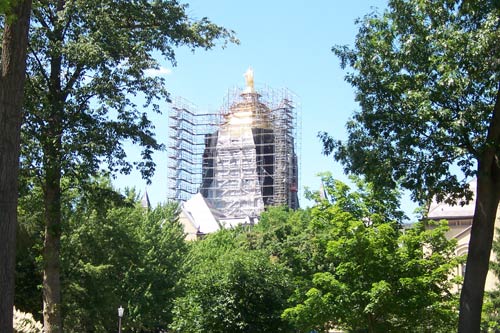 They're reguilding it, not painting, just in case you were wondering.
We spent the Fourth in Ohio with Melissa's folks. They were good enough to take me to Fifth-Third Field, home of the Toledo Mud Hens (Detroit's AAA club). The game ended in exciting fashion in the bottom of the 11th on a sac fly, as Toledo beat Richmond 2-1. Baseball is happiness.

The next day was quite a feast at the Wheeler house, celebrating Independence Day in style around the grill. It was a great weekend overall spent getting back to my midwest roots.