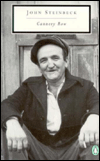 He never forgot anything but he never bothered to arrange his memories. Everything was thrown together like fishing tackle in the bottom of a rowboat, hooks and sinkers and line and lures and gaffs all snarled up.
This is Odie's favorite book. He described it as 3A Keough Hall, our dorm section at Notre Dame. It's tough for me to compare the marginalized cast of Cannery Row to the middle/upper class residents of Keough, but I see where he's coming from. They're a group of people thrown together essentially by chance. Each has a pretty distinct personality, but they coexist in harmony, for the most part. Furthermore, they're looking out for each other, sometimes failing, but always with the best intentions. Hopefully Odie will comment to see how close I am to the mark.
One other line that I loved:
There is no term comparable to green thumbs to apply to such a mechanic, but there should be.